​Thinking about a career in social care but not sure where to start? Social care is a vast sector with a variety of career pathways. Whether you prefer to be working directly with people in the community or to offer advice regarding the services the council can provide, there are several routes you can take into working in social care services.
In this blog we hear from Toby, who started his career in social services as an Independence and Wellbeing Advisor in Suffolk County Councils Customer First Team. Here he tells us more about his role, the experience he has gained and where this can lead to.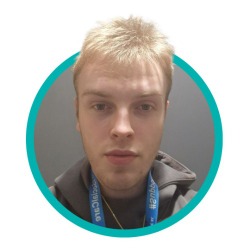 ​
​
​Toby, Crisis Outreach Practitioner
​
​
​
Why did you decide to apply for the role of Independence and Wellbeing Advisor?
I had initially studied media studies at college but decided to change career path at 18 and took A-levels in Psychology, Sociology and Media. Alongside studying I volunteered as a Youth Support Worker at a charity that supports young people. I heard about the Independence and Wellbeing Advisor role at college through the Kickstart scheme and started two years ago.
How was the interview process?
It was important to be prepped for the interview and get the picture of Customer First as a starting point for social care and the first point of contact for enquiries from the general public. The interview was relaxed. The interviewers made me feel at ease and also asked about what I was hoping to achieve working in Customer First.
What does your day-to-day role look like?
The job is phone based, so most of the day is spent answering calls, following up enquiries and logging these on the system, alongside some admin, emails and online referrals. It's a fast-paced role but every day is structured so it's manageable. In this role you are always faced with something different and it's rewarding to help people navigate different issues and learn how to help with different situations.
What are the benefits of the role?
Every day is different and working in a fast-paced environment you gain a lot of experience in a quick amount of time. This role helps understand what opportunities are out there in social services and you are always supported in helping get to your next career goal and gain experience. Team Leaders really care and are always happy and willing to help you progress. If there is something you are passionate about that you want to do in your career they will support you every step of the way.
I have recently been offered a job in Children and Young People's Services (CYP) as a Crisis Outreach Practitioner. In this role I'll be working in the community and with families in crisis. This is an exciting next step in my career and was possible with the experience gained as an Independence and Wellbeing Advisor and the support from managers at Customer First.
Are there any challenges?
With the nature of a job within social services, you are supporting people who are often in high stress situations regarding family or loved ones and therefore you do need to be resilient. However, you soon learn how to handle different situations and it's rewarding being able to help people. As a front door service, we receive a high volume of work, but this is filtered out through different services and line managers are very supportive. This role has helped me to build confidence in dealing with a variety of calls and improved my ability to problem solve under pressure, which has enabled me to progress my career.
What advice would you give to some looking to start a career in social services?
If you are someone looking for a role in social services sector and unsure what area you want to go into Customer First is a great place to start to understand where you passion lies and be able to develop your career. If you're interested in a career social care but not sure how to start, it's an excellent way to gain that experience and understand the layouts of the service to help progress your future career in the sector.
Take a look at some of our current Social Care jobs or register with us today so we can help you find your perfect opportunity!